Practice news
Upcoming events, changes to the practice or interesting health related news articles will be posted here. If you would like to see any of the practice newsletters that we have published please click here. There is also a live news feed from the health pages of the BBC on the right, click on any story that interests you for further information.
August 31st, 2020 by Dr Wheeler.
The covid threat remains and we continue to offer telephone triage or video call consultations to all patients before deciding whether a face to face appointment is needed.
If you do need to consult by video call please phone the practice first to arrange a time. The service can then be accessed at the following link…
https://www.wihb.scot.nhs.uk/wi-near-me/
June 10th, 2020 by Dr Wheeler.
In response tot the coronavirus situation your doctor may recommend a period of home monitoring to safely assess you if you become unwell.
I have made a short video showing you how this process can work along with some tips as to how to use the equipment properly.
April 9th, 2020 by Dr Wheeler.
In view of the current Coronavirus pandemic we have been asked by the health board to open the practice over the upcoming Easter bank holidays to take pressure off out of hours services.
If you need help over this time we should be open as usual.
March 26th, 2020 by Dr Wheeler.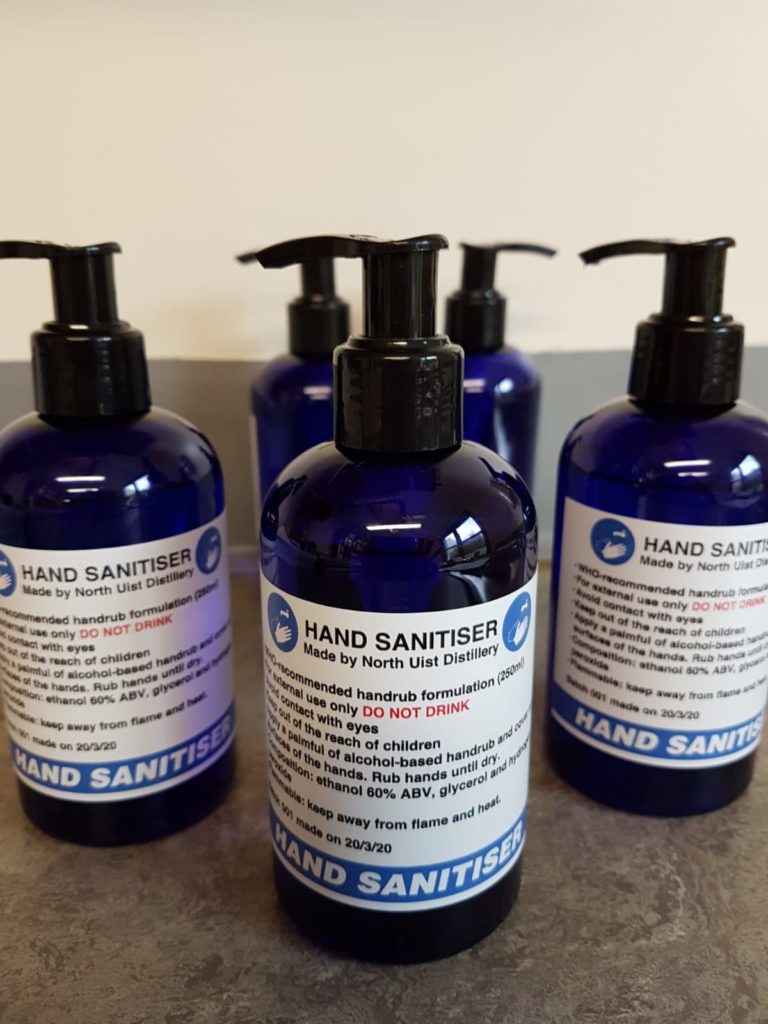 A big thank you to the North Uist distillery who have donated several bottles of hand sanitiser to the practice in light of the current coronavirus situation.
Great way to re purpose their alcohol stocks during this difficult time – much appreciated (and smells great)!
March 5th, 2020 by Dr Wheeler.
You will have seen a lot in the news about the Covid 19 virus which is starting to spread.
There have been no local cases yet – but we are keen to minimise spread so are starting to take precautions ahead of time.
If you are booking an appointment with a doctor or nurse in the next few weeks you will need to do so over the phone – and will be asked a couple of screening questions to make sure that we deal with you in the safest way possible.
During this time online appointment booking will need to be suspended – but this will be reintroduced as soon as the situation has settled.
In the meantime – please do NOT attend the surgery if you have any respiratory symptoms or fever, and please tell us if you have travelled abroad in the previous 2 weeks when booking your appointment.
Further info is available here:
https://www.nhs.uk/conditions/coronavirus-covid-19/