Practice news
Upcoming events, changes to the practice or interesting health related news articles will be posted here. If you would like to see any of the practice newsletters that we have published please click here. There is also a live news feed from the health pages of the BBC on the right, click on any story that interests you for further information.
October 3rd, 2019 by Dr Wheeler.
A patient participation group meeting happened this week – with discussions about referrals, clinics, staff changes and GP contract issues (including how it affects vaccination programmes).
A full copy of the minutes is available here.
October 1st, 2019 by Dr Wheeler.
The Scottish government has decided to administer the flu programme centrally by the Community Nurses this year. 
This means that the practice is no longer able to order and administer the flu jabs as we have in the past.
Due to these changes, you will not be getting a letter from the practice inviting you to come. Instead the Community Nurses are holding open clinics so that you can get your flu vaccine. Please come along if you fall into any of the categories below:
All those aged 65 and over
Anyone with… chronic respiratory disease
Chronic heart disease
Chronic neurological disease
Diabetes
Immunosuppression
Those living in long-stay residential homes
Carers
There is no need to make an appointment for the flu clinics.
The Community Nurses are holding flu clinics in North Uist Medical Practice on:-
1. MONDAY 14TH OCTOBER 2019 BETWEEN 2PM – 4PM
2. THURSDAY 17TH OCTOBER 2019 BETWEEN 2PM – 4PM
3. MONDAY 21ST OCTOBER 2019 BETWEEN 2PM – 4PM
2. THURSDAY 24TH OCTOBER 2019 BETWEEN 2PM – 4PM
If you are housebound the district nurse will still be able to give you the vaccine at home.
As per the new Health Board policy we are no longer able to give flu jabs during routine appointments.
August 31st, 2018 by Dr Wheeler.
We know some patient's still value having medication dropped off / the ability to make routine appointments on the West side.
We have however noticed that patient numbers in the clinic have fallen significantly in the past 6 months.
The new proposal is that the Bayhead clinic will happen once a month instead of fortnightly – this will still allow adequate provision for repeat prescriptions, and allow patients wanting to make routine reviews of chronic conditions/ medication checks a chance to see a doctor without travelling to Lochmaddy.
From October we plan to hold the clinic on the first Thursday of every month.
Feedback welcomed by phone / email or in person.
August 30th, 2018 by Dr Wheeler.
Great to have the 3 doctors in North Uist all doing the 13 mile race from Berneray to Lochmaddy last weekend.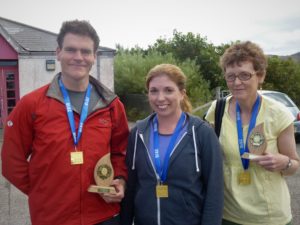 If there is one thing you can do to improve your own health it is to take regular exercise – please watch the fantastic video from doc Mike Evans below outlining why…
June 6th, 2018 by Dr Wheeler.
There have been some issues with patients trying to get online access to prescriptions and appointments as 'EMIS Access' has changed their website.
You can still go to the same link as before – but you will need to sign up online to the new service.
Press the 'register now' button and then click the link that says "If your practice is in Scotland or Northern Ireland click here instead."
On this page you need to enter the user ID / practice ID etc that you were given when you initially signed up.
If you don't have this info then please ask at reception and we will generate a new one for you.
Once you register you will see the new improved web site – it makes it very clear what medication you are on / what appointments are available.
Contact us if you have any problems.