Practice news
Upcoming events, changes to the practice or interesting health related news articles will be posted here. If you would like to see any of the practice newsletters that we have published please click here. There is also a live news feed from the health pages of the BBC on the right, click on any story that interests you for further information.
May 4th, 2017 by Dr Wheeler.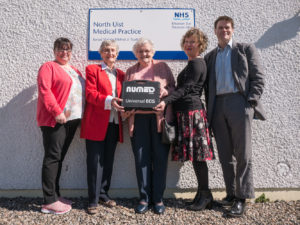 A big thank you to the Eabhal club members who generously offered to help fund a new ECG machine for North Uist medical practice.
Three representatives from the local charity came to the practice today to formally hand over the upgraded device which helps diagnose a range of heart related issues. It is a big improvement on our old machine – and should hopefully serve the people of Uist well for many years to come.
If you, or anyone close to you has been touched by cancer then please get in touch with the club directly or through the practice – either to look for support or to help with fundraising efforts.
March 22nd, 2017 by Dr Wheeler.
I have just uploaded a video that I took at the 'Million miles for Ellie' assault course that the Macdonald family organised for the end of last year.
As of today the running total for the campaign is £72405… a great effort by everyone who has contributed. Please continue to support the charities involved…
http://www.1millionmilesforellie.co.uk/
January 17th, 2017 by Dr Wheeler.
I am pleased to announce that Bayhead surgery will be back up and running from this week.
We had struggled to find accommodation after the old janitor building was knocked down. But headmistress Jane MacSween at Sgoil Uibhist a Tuath has been supportive and we now have access to the medical room in the school.
We will be there on alternate Thursdays.  Patient's can pick up medication from 3.30, and there will be some appointments available for you to see the doctor from 3:40 onwards.
Please phone the practice with prescription / appointment requests as usual.
The facilities are limited – if you need extensive examination / investigation or even just full access to your medical record – these branch clinics are not ideal.
We are pleased to be able to offer the service on the West side of the island again – I know some of you did really appreciate not having to come out to Lochmaddy for routine appointments / medication collections.
November 26th, 2016 by Dr Wheeler.
Thank you so much to everyone who helped sponsor me for the Hebridean challenge recently.  I was running / cycling / kayaking for 'Million miles for Ellie' – the fantastic local charity set up in memory of Ellie MacDonald.
We raised £1088.75 in total, and the Heb challenge as a whole added several thousand miles to the mileage tally.
I would also like to add some more miles with the 288 that were completed by myself and 2 friends doing the West Highland way recently.
It has been great seeing the island rally round this local fundraising effort – keep it going!  More donations can be added here.
November 26th, 2016 by Dr Wheeler.
We would like to extend a warm welcome to Dr Billyard who has just started at North Uist Medical practice.
He has moved here from Devon with his wife, and has quickly got to know the area already with a trip to Harris and Lewis, and a climb of North Lee under his belt.
He is an experienced GP with a background in training medical students and doctors, as well as exposure to working abroad.